by: R.W. Evans
Our colorful bird tiles are used for decorative purposes in kitchen, bath, and fireplace surround applications, as well as stand alone pieces of art. These are painstakingly glazed tile, crafted one at a time, there are NO DECALS involved in any way! Using the cuerda seca method popular in the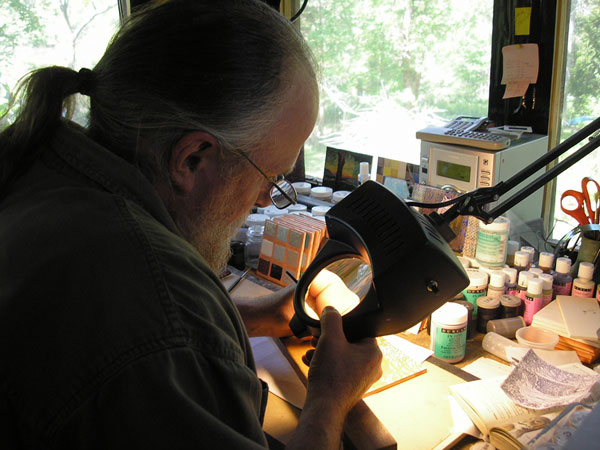 Arts and Crafts era of the early 1900's, Richard lays out his drawing of the bird using wax, then applies the color. Handmade frames of either cherry or oak to allow these to be hung on a wall, are available separately . The tiles measure 4 1/4" x 4 1/4" alone and the frames 6 1/2 " x 6 1/2". Whether you have an Arts and Crafts style home or just appreciate the beauty of birds, these tiles can make a lovely accent.
Each relief tile you see in the lower portion of the page is hand made and fixed in a custom frame. Square tiles average 8"x8" including the frame, but the dimensions of others may vary somewhat depending on tile shape and construction. Let us know if you would like to be notified about new tiles as they become available, or check out our site at www.meadowpoint.etsy.com for the latest "fresh from kiln" items.

Visit the Tile Gallery to check out past projects, experiments and sold work.
---
Home | Leaf Vases | Jars | Teapots | Links | BUY on Etsy
---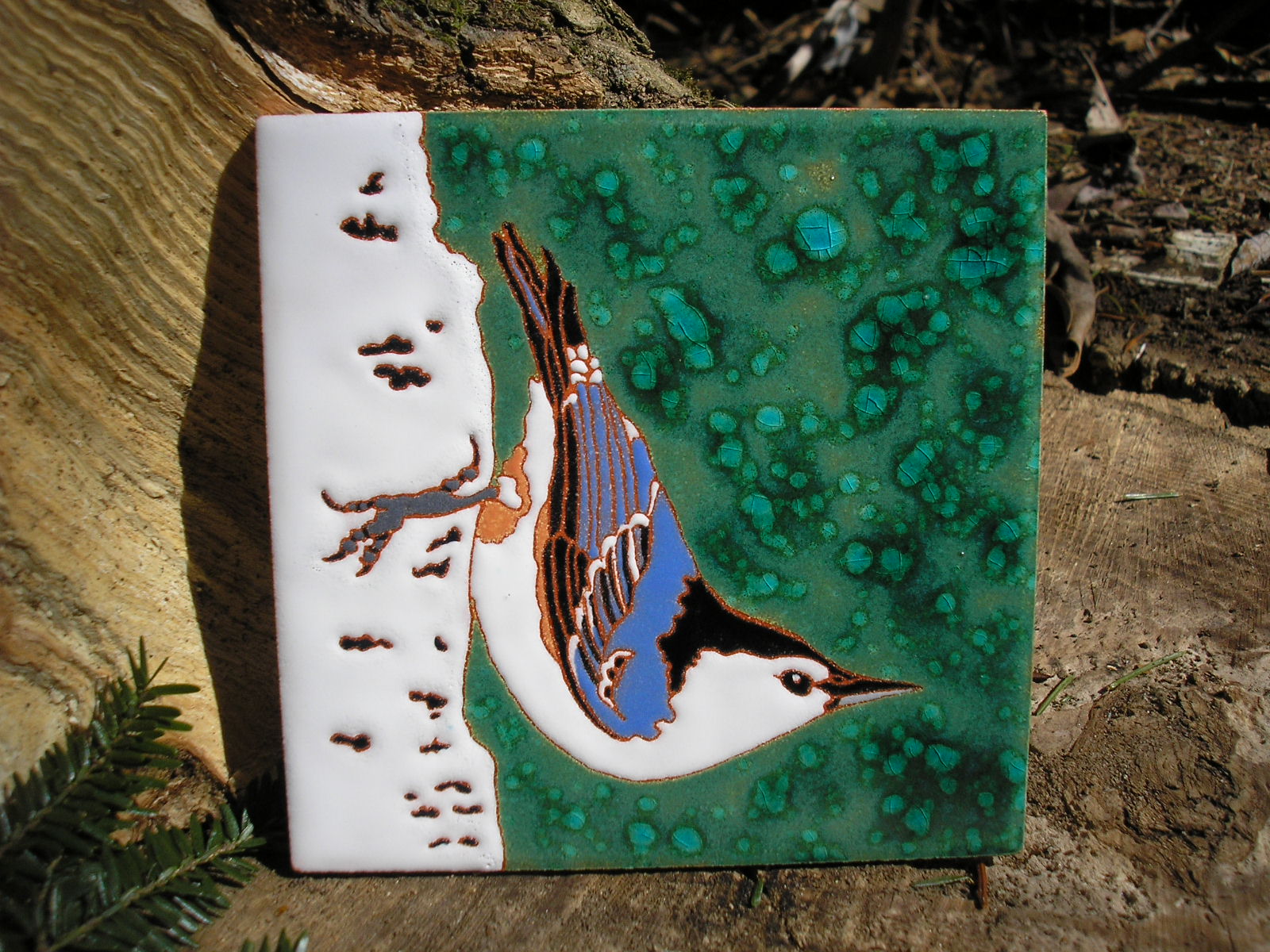 White-Breasted Nuthatch
(Sitta carolinensis)

Blue Jay
(Cyanocitta cristata)

Black-Capped Chickadee
(Parus attricapillus)

Mockingbird
(Mimus polyglottos)

Cape May Warbler
(Dendroica tigrina)

Hooded Merganser
(Lophodytes cucullatus)

White-breasted Nuthatches (opposite)
(Sitta carolinensis)

Eastern Bluebird
(Sialia sialis)

American Goldfinch
(Carduelis tristis)

Cardinal
(Cardinalis cardinalis)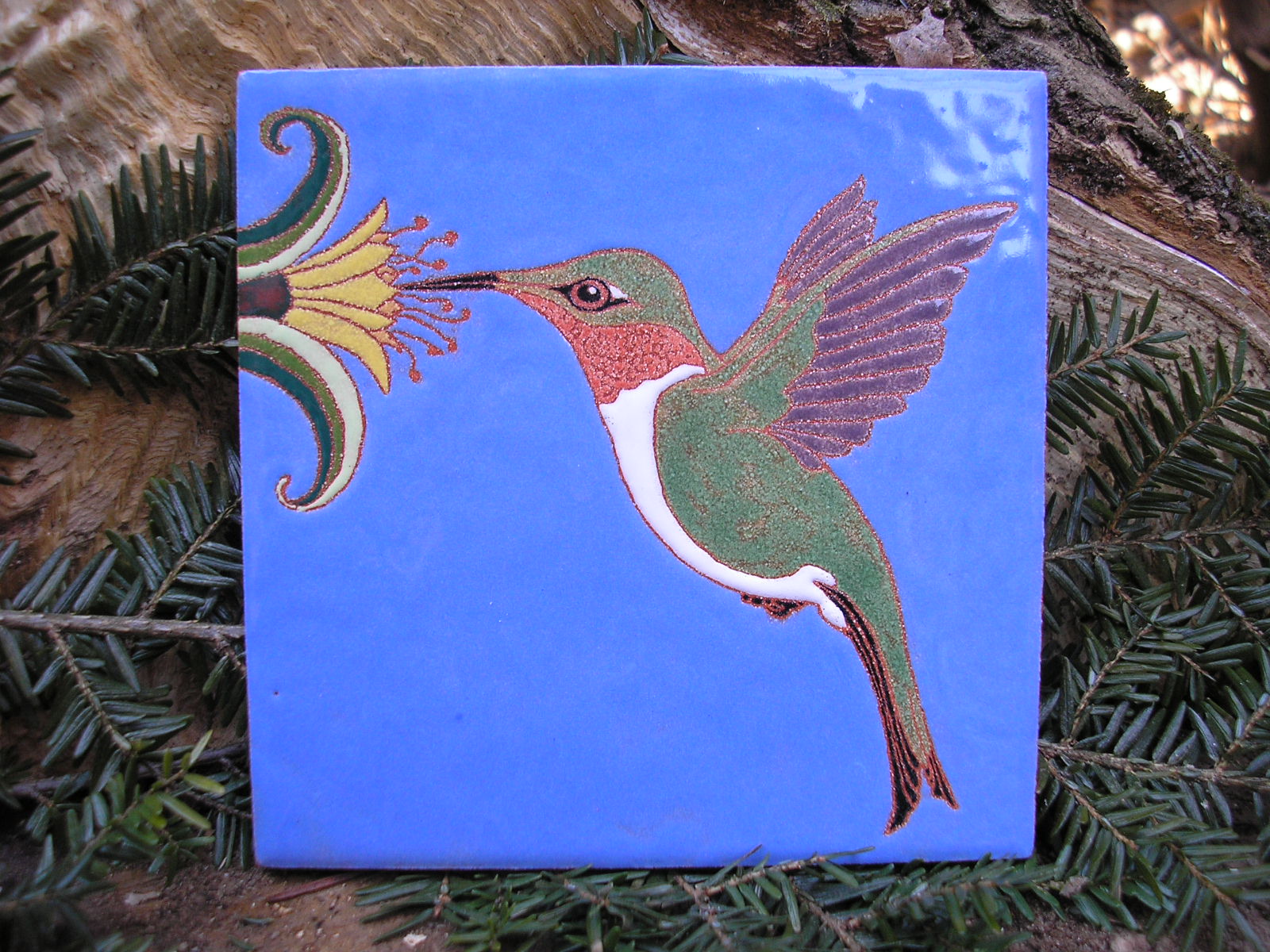 Ruby-throated Hummingbird (male)
(Archilochus colubris)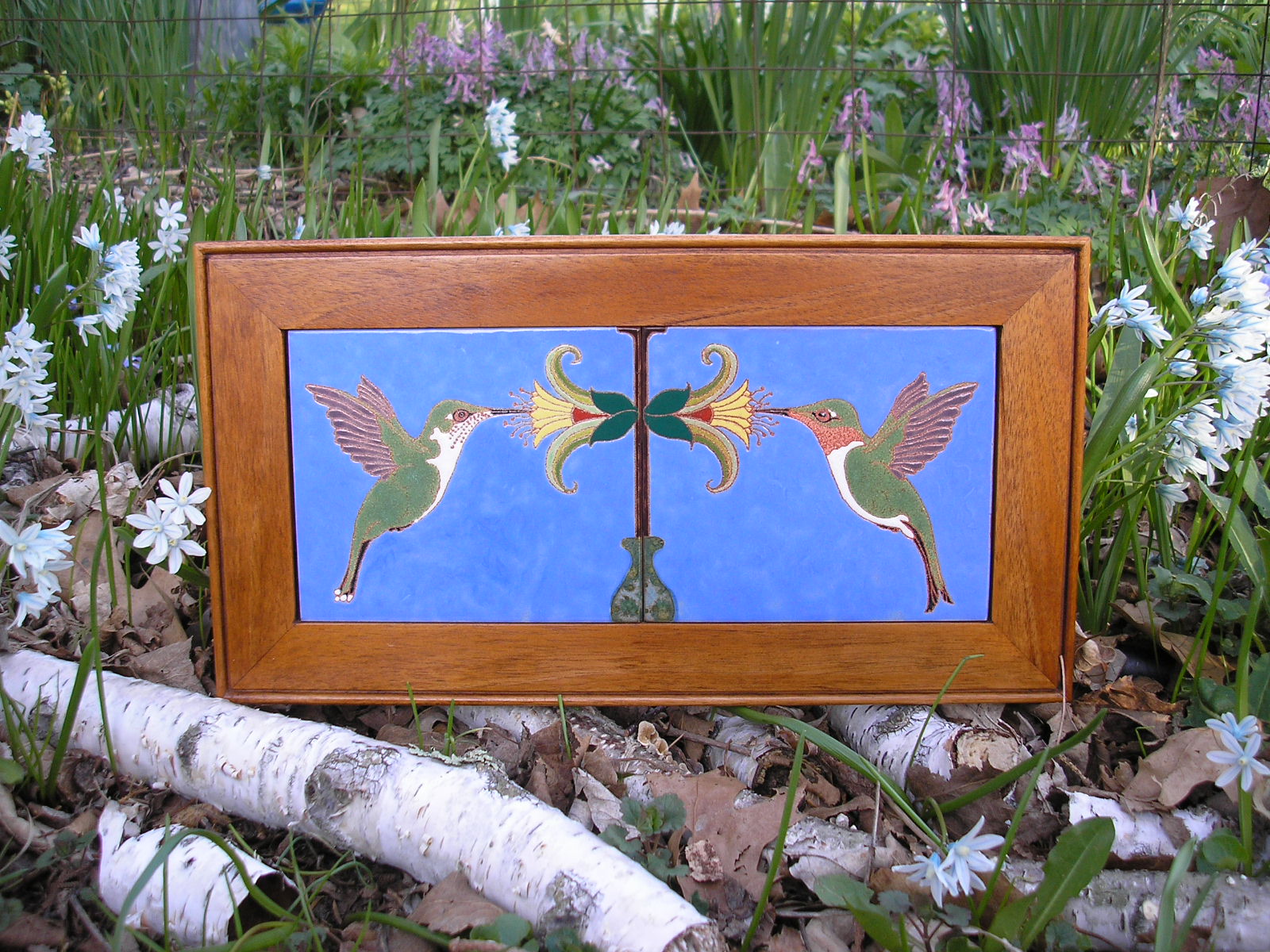 Framed Ruby-throated Hummingbirds (female & male)
(Archilochus colubris)
---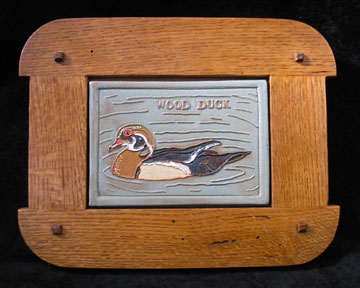 Wood Duck - $73
Red Oak Frame
ID# 80

Sold

Black Cat - $63
Mahogany Frame
ID# 06102
Sold

Swan - $48
Poplar Frame
ID# 21

Sold

Chicken Portrait- $63
Mahogany Frame
ID# 06103
Sold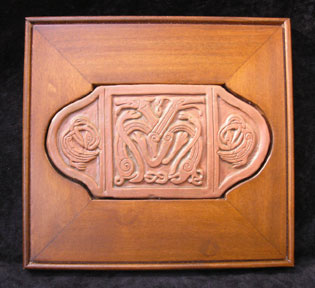 Celtic Dogs Entwined - $53
Poplar Frame
ID# 29

Sold

Frog - $63
Mahogany Frame
ID# 06109

Sold

Celtic Bird Spiral - $53
Mahogany Frame
ID# 06103

Sold

Rabbit
Mahogany Frame
ID# 06104
-Sold-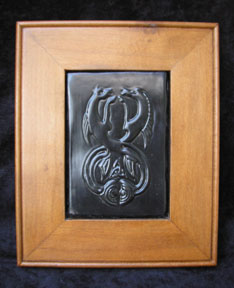 Hippocampus
Poplar Frame
ID# 34
-Sold-

Celtic Horses - $53
Poplar Frame
ID# 24
Sold

Celtic Dogs
Cherry Frame
ID# 76
-Sold-

Saint John - $53
Poplar Frame
ID #28

Sold

Pug - $83
Red Oak Frame
ID# 71

Sold

Monarch Butterfly - $63
Mahogany Frame
ID #06114
Sold
---