Simple. Reliable. Affordable.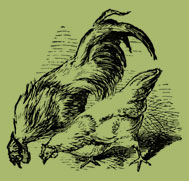 Rural Web Design creates custom websites that fit the needs of your small business or organization at reasonable prices.
Simple. - My signature websites are hand coded with HTML and CSS, which is a really good way of keeping designs simple and easy for the viewer to use. The more complicated the coding of the website - the more likely there is to be a problem. That doesn't mean your website won't look nice - or even complicated if that is what you are looking for - just that the code underneath it all stays simple and easy for your viewers to use. For those who want a bit more complexity and easy content control, Wordpress integration is also available.
Reliable. - As a one (wo)man business, I am able to work with you one-on-one through the process of creating your website. I am honest about estimates and scheduling... you don't commit to anything until you know what it is you'll be receiving and if I can't meet your needs, I'll let you know, and suggest some other options for you.
Affordable. - I want custom websites to be available to any business owner, organization, or farmer. So from the start you decide how much you want to spend, and I let you know what I can to get your website online within that budget, even if it means you start off with only one page and work from there.