Clinics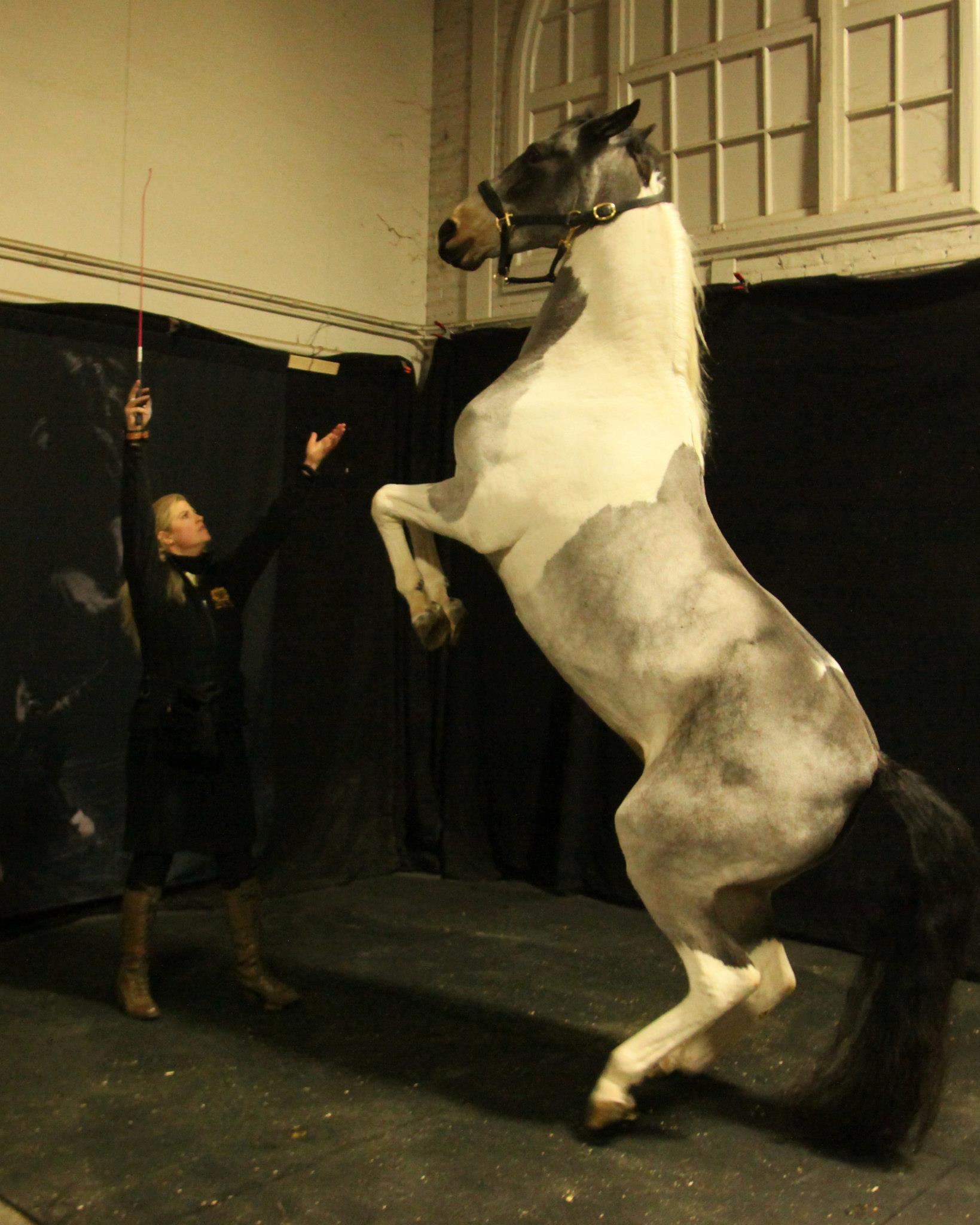 2013 Clinic Schedule
August 2nd & 3rd - Clicker Training Clinic

The Art & Science of Positive Reinforcement with Sarah Hollis of Tintagel Enterprises, Ltd.

Participants in this clinic will learn the basic science behind operant conditioning and classical conditioning and how these techniques can solve many daily behavioral issues as well as teach an animal new behaviors. Working with a marker signal (clicker) is one aspect of positive reinforcement we will be covering. Topics will include: How to start using a clicker, how to use it for counter conditioning as well as shaping new behaviors, common pitfalls to avoid, discover what really reinforces your horses behavior and much more! Lecture with demonstrations, group exercises, and individual sessions with participants horses.

If your horse has any fear/aggression issues, lacks motivation, or you simply want to interact and learn with your animal in a way that creates trust, connection, and best of all, IS SUPER FUN, this is the clinic for you.

You do not need a horse to attend. You may audit all sessions and participate in the group exercises.
No theory, no opinion, just science.

Who is Sarah Hollis?

Sarah Hollis is the owner and head trainer of Equine Holistic Performance Arts Training and Breeding Facility, Tintagel Enterprises Ltd., as well as the Head Horse Trainer for NYC-based animal talent agency All Creatures Great and Small. She teaches dressage with a focus on correct biomechanics, educates on animal behavior and trains animals for specialty media work. Tintagel horses have been seen in numerous fashion magazines such as Vogue and Harper's Bazaar, and have appeared with celebrities such as Daniel Radcliffe, Beyoncé, Lady Gaga, Ralph Lauren and more. They have also appeared in national TV commercials and various media jobs. Sarah's most recent work can be seen in the September 2012 issue of Vogue, where singer Florence Welch appears with Tintagel breeding stallion Regaliz. Sarah is well known for the safety level she brings to a job due to her well-trained animals that can maintain focus and calmness in a chaotic atmosphere. Sarah credits the clicker work for producing such celebrity-safe animals.

• WHEN: August 2nd & 3rd, 2014 9:30 A.M. – 4:00 P.M.

• WHERE: Seacoast Farm ~ Jenny Wells 26 Leeds Junction Rd. Wales, ME 04280 www.seacoastfarm.com

• INFORMATION: Pre-register by contacting Jenny @ 207-933-1038 ~or~ e-mail seacoastfarm@roadrunner.com . Register day of clinic 8:30-9:00 a.m. : Clinic begins at 9:30 sharp

• COST: $100.00 p/person full day Saturday clicker clinic

• Sunday private and semi-private lessons available:
Sarah is available to work on clicker training and help with problems, or if you prefer she is available for riding lessons as well.
45 minute Private $75.00
45 minute Semi-private $40.00 per person
Auditing fee for Sunday $20 per person for full day

• Saturday horses arriving for clinic participation should arrive at 8 in order to settle in and get necessary paperwork done.

• Copies of current coggins and rabies, EWEF are required.

• Owners and participants will need to sign a release.

• Stabling available at additional cost per day.

Pot Luck Lunch ~ Everyone please bring something to share

Past Clinics - Driving Clinic with Muffy Seaton

Muffy Seaton is a four-time National Champion. She placed 3rd in the World at the Royal Windsor Horse Show in 1997. In 2005, she trained and qualified the pony who won the Gold Medal at the World Pony Championship in England. She is internationally known as one of the best Clinicians and Trainers. Along with her passion for Carriage Driving and breeding driving ponies, Muffy enjoys traveling with family and friends and spending a lot of quiet time at Shepherd's Purse, what she calls, "the most serene place on earth."

Seacoast Farm is hoping to put together a clinic with driving trainer and instructor Andy Marcoux in the fall of 2013. If you would be interested in attending such a clinic, please contact Jenny Wells, seacoastfarm@roadrunner.com

.
---
Scheduling a clinic at Seacoast Farm
We hold regular carriage clinics and ADT's at our farm with Muffy Seaton.
We have hosted carriage clinician Jeff Morse for the Maine Morgan Horse Club.
We hold longlining clinics with world renowned Friesian trainer Clay Maier from Kentucky.
The facility is available to host clinics for clubs, organizations or private individuals. Please call for more information and rates.
Clinics with Jenny Wells
Jenny is available to teach clinics. Rates are $400 per 8 hour day, plus lodging, meals and travel. Please call or e-mail for more information. References are available.


<!-/--div=endofcontent--/->