Purebreds For Sale
Mares
Geldings
Stallions
Unborn/other
Classifieds
Crossbreds
Wanted
At Stud
Submit a Classified
Reference
History of the Friesian
Encyclopedia
Care & Health
Historic Notes
Useful Dutch Words
Approved Stallions
Friesian Fanatics
Friesian Forum
Friesian Tales
Product Reviews
Business Reviews
Friesian Classifieds
Directories
Art & Gift Gallery
Friesian Fan Listing
Friesian Links




Sofieke
Age: Yearling
Registry: FPS/FHANA
Sire: Anne 340
Dam: Marta R.
Dam's Sire: Nikolaas 310
Price: $14,000 OBO
Sofie will mature to be a big girl. Her First premium star mare dam is 16.2. She has a four year old sister that is 17 hands, and her two year old brother is 16 hands. She is extremely sweet, and very easy to work around. She has some really nice gaits.
Fully FPS/FHANA registered. She comes from a line of breeding mares that are easy to get in foal and deliver foals with no troubles. She has low inbreeding %. I take special care to pick stallions that compliment my mares in confirmation, temperment and health.
Quality home is a must or we will keep her on for the next generation of breeding mares. This filly is gentle, and very safe. She should be very very easy to train in any style of riding and driving. I can send video clips by email, and pictures as well. Sofie has been handled since birth and has been raised on our farm with dogs and children.
Contact: Doreen Kirby
Email: dkirby1280@charter.net
Phone: 413-256-6740
Location: (Massachusetts)
Sandertsje fan Bosma
DOB: 5/05
Height: will mature to around 16.1 hands
Registry: FPZV/FHS
Sire: Wally P.
Dam: Aletta fan Bosma
Dam's Sire: Pyt 325
Stam Line: 38
Dam line: Stb. (trying for ster this year), M, MP, MP+PM
Price: $12,000
She is out of Oepke line. Aletta's dam, Bynke is a driving champion, and is starting dressage and CDE as well. She was an exhibition mare this year in Equine Affaire [ohio]. This filly has awesome uphill conformation. LOTS OF HAIR! Long legs, takes after her grandsire Pyt!. She has a beautiful arching neck. Great personality. Last year in showmanship, halter and in-hand classes she did very well. Nicely mannered. Clips, hauls, farriers, bathes good. Handled a lot and imprinted.
Very sweet. Has FEI Potential as a dressage horse or could go carriage. Her dam last year won her 1st show in carting and hunter class. Classic built and ready for you to take home and love on.
Contact: Laurietta Oakleaf
Email: tammi@watchtv.net
Phone: 419-303-1536
Location: (Ohio)
Ina Pearl H.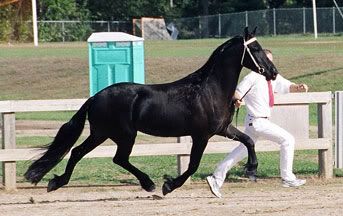 DOB: 6/1/02
Height: 16 hands
Registry: FPS/FHANA
Sire: Ludse 305
Dam: Pearl (Star)
Dam's Sire: Bendert 281
Price: $15,000

Sweet and well-mannered Studbook mare. Clips, lunges and trailers well, though no formal training as of yet. She loves to play in the water and is very curious and friendly with people and other horses. Excellent papers with a solid motherline. Her mother, Pearl, is only one offspring away from becoming Preferant. Ina has just been confirmed in-foal to Goffert 369 for a 2007 baby.

Contact: Adrienne St. Cyr
Email: equicare1@aol.com
Location: (Massachusetts)

Classified advertising on Friesian Crazy is free for everyone selling or seeking a Friesian horse. Include photos and any information you like! So if you're interested, stop on by (click the above link) and submit your ad!

Advertise your Friesian farm or business for free with Friesian Crazy's banner exchange program. Learn more...

<!-/--div=endofcontent--/->