Reference
History of the Friesian
Encyclopedia
Care & Health
Historic Notes
Useful Dutch Words
Approved Stallions
Friesian Fanatics
Friesian Forum
Friesian Tales
Art & Gift Gallery
Breed Business Reviews
Friesian Classifieds
Friesian Links




Why Do They Come?
There is a new essay on the Friesian Tales page, titled "Why Do They Come?" by Joan. Very beautiful, go check it out.

Posted on: 4/15/06
East Coast Friesians for Nationals
Jennifer Grady, of Acorn Hill Farm in Whitefield, Maine, is encouraging IFSHA members on the East Coast to band together and make an appearance at the 2006 West Coast nationals:
"I am hoping we can get a good representation of East Coast Friesians for the 2006 IFSHA Grand Nationals being held in Las Vegas Nevada, November 10-11-12, 2006. We had such a great time in 2005, however going this effort for one individual may be difficult. "
"I was hoping that we could get a group of us together so as to hopefully share expenses, and get a discounted rate for multiple horse transportation. If you are interested in bringing your Friesians, sharing expenses, or can help with getting transportation discounts, please contact me at acornhill4@aol.com, 1-207-549-3170 or Jennifer Grady, Acorn Hill Farm, 8 Jewett Lane, Whitefield ME 04353"
Posted on: 4/15/06
2006 IFSHA Grand Nationals
The 2006 International Friesian Show Horse Association's Grand Nationals will take place this year on November 10th, 11th, and 12th in Las Vegas, Nevada. IFHSA is looking for volunteers to donate their time and skills to help organize the event. A list of positions that need to be filled can be found here.

Posted on: 4/15/06
Tjibbe and Tietse Approved
The two stallions granted a shortened performance testing due to their sport accomplishments in dressage have both been approved. Tjibbe Ylcke (Brandus 345 x Tjimme 275) is now Tsjabring 429, and Tietse D (Reyert 337 x Oepke 266) is now Tietse 428.
Friesian Business Reviews
Know a breeder who helped you out 110% when buying your Friesian? Had some trouble with a dealer who wasn't so great? The new Friesian Business Review page allows you to nominate, rate, and review, any breeder, trainer, importer or merchant in the Friesian horse industry.
Warn 335 Returns to NL
Fifteen year old approved stallion Warn (Hearke 254 P x Wessel 237 P) has been bought from long time American breeder Frank Leijendekker in CA and will soon return the Netherlands.

---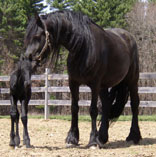 Love the Friesian horse but wish you could do more? Consider joining the Friesian Crazy team.
Calendar
Muffy Seaton Driving Clinics
Where: Seacoast Farm, ME
- June 24-25
- July 22-23
- August 12-13
- October 28 -29
seacoastfrm@clinic.net

<!-/--div=endofcontent--/->