Welcome to my site! Whether you are a newcomer to the breed or a long-time friesian horse owner, I hope to make this site fun and educational for you. Suggestions for my site are always useful and welcome, so please e-mail me: friesiancrazy@gmail.com if you would like to contribute. Also, if you would like to see some information added or would like to submit an article yourself, please let me know. Every service (advertising, for sale ads, etc..) is free of charge for your use. Thank you and enjoy the site.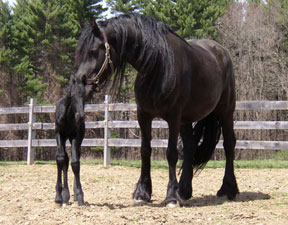 2nd premie Star mare Anna fan it Heim and first born colt Tonke CCF, born 4/20/06.
If you have photos of your friesian you would like to see displayed please feel free to send them in. A photo credit, as well as any other information request, will appear with the picture. Also, I know that many of you have interesting information and fun stories about your friesians. Birth announcements, shows, open houses, new friesian arrivals.. all news is welcome to be posted here. (friesiancrazy@gmail.com)
Having trouble with the new layout? Let me know what the problem is, so I can debug A.S.A.P.! Thanks for your help!
Help Wanted
Love the Friesian horse but wish you could do more? Consider joining the Friesian Crazy team.
Calendar
Muffy Seaton Clinics at Seacost Farm in ME.
- June 24-25
- July 22-23
- August 12-13
- October 28 -29