Crossbreds For Sale
Classifieds
Reference
Friesian Fanatics
Directories
Crossbreds
Figlia De Boscodonne
Age: 3 week
Color: blood bay
Registry: none
Sire: Reginald de Boscodonne
Dam: Custody mcCue
Dam's Sire: Cody McCue
Price: $4,000 USD
Beautiful, correct bay filly. Dam is reg APHA tobiano bay paint. Sire is a triple registered Friesian. Grand sire is in Holland and grand dam from Italy. Filly will be tall with lots of bone. Looking very warmbloodish right now. Strong rear. She has tons of movement with nice action and is very freindly. She is handled daily and small herd raised. She will be in the winners circle.
Contact: Forest
E-mail: forestforfilm@yahoo.com
Location: (BC, Canada)
Bella
Age: 3 years
Height: 15.3 hands
Color: black
Registry: none
Sire: Alex
Dam: Wild Salsa
Price: $8,000
Bella is a beautiful Filly. She is smart willing and loves people. She has been started under saddle and is doing great. She has been on trail rides and is very brave. She needs to be in the dressage arena, she has a lovley trot and a nice big canter. She should mature to 16+ hands. For more info please call me 541-968-0083. She is a must see !!
Contact: Chelsea
E-mail: seameglo@aol.com
Location: (Oregon)
My Oh Maya
Age: 4 years
Height: 16
Color: black-bay w/tiny star
Registry: IAHA, AWS eligible
Sire: Loki
Dam: Amber Asam
Price: $4,500
16h Black-bay mare. Floating, ground covering trot. Sound & healthy. Herd reduction. Ready to start. Pics available. Located in AZ. IAHA registered and have all signed papers for the FSHR and AWS ready to be submitted. Great sporthorse, dressage or hunter motion. Pretty head and good conformation.
Contact: Rosemary
E-mail: ndfaz@aol.com
Location: (Arizona)
---
Brutus
Age: 5 weeks
Color: dark bay
Registries: SHR
Sire: Caesar
Dam: Missy May
Price: $1,800
ABSOLUTELY STUNNING Half Friesian/Half Arabian April 2009 Colt! Sired by a tall modern sport horse built Black Purebred Friesian Stallion (already 17 HH and just turned 4 years old!). Out of a super sweet Sorrel/Chestnut Purebred Arabian Mare. This Colt is big. And already an incredible mover! Ready to Wean in September. Payments accepted. Will help arrange Delivery. Price also negotiable!
Contact: Irene Sullivan
E-mail: MystikalWolf@msn.com
Phone: 763-780-4400
Location: (Gays Mills, Wisconsin)
JRs Sir Ibn Brandus
Age: 5 months
Height: 12.2 hands
Color: smoky black
Registries: AHA, FSHA, FSHR
Sire: Hertog v.d. Jan Paddensteeg
Dam: Ebonys Adhema
Dam's Sire: Jet Adem
Price: $3,500
4 1/2 month old black Friesian/Arabian colt for sale or trade for black straight egyptian purebred registered arabians mares or fillies with excellent conformation. This colt is correct, has high leg action with hackney movement and will be tall- (15.2-16.2hd). Extra calm attitude and always wants to be handled. He is registered with AHA, FSHA, FSHR and is USEF lifetime member. He is microchipped. Friesian Sire was 2007 Midwest Region Reserve Grand Champion Stallion and is 16.2 hand born in 2002 and is 1st Premium son of Brandus 345, was imported from the Netherlands in 2004 and is registered with FPS, FSHR and AFA. The Premium that a that Friesian receives from a strict Dutch judging largely reflects movement and conformation. A 1st Premie is the highest awarded to the top 5% of horses presented which means he is guaranteed as a horse to have outstanding conformation and movement. Dam is Early American Foundation purebred arabian mare of the old egyptian blood!
More information of sire, dam, colt and his full sister can be seen at my website. This colt was bred to be shown and should excell in dressage, driving, park or jumping. (Sire has jumped high jumps and this colt's full sister jumped a four foot jump at the age of 6 months!) Price negotiable to a show home. Pictures and Video link located at our website www.jrsgentlehills.com or email me and I will send you the video link and pictures. Will help with shipping costs.
Contact: Jennifer Hurt
E-mail: jennifer_hurt@sbcglobal.net
Phone: 417-830-9174
Location: (Missouri)
G.Y.'s International Symposium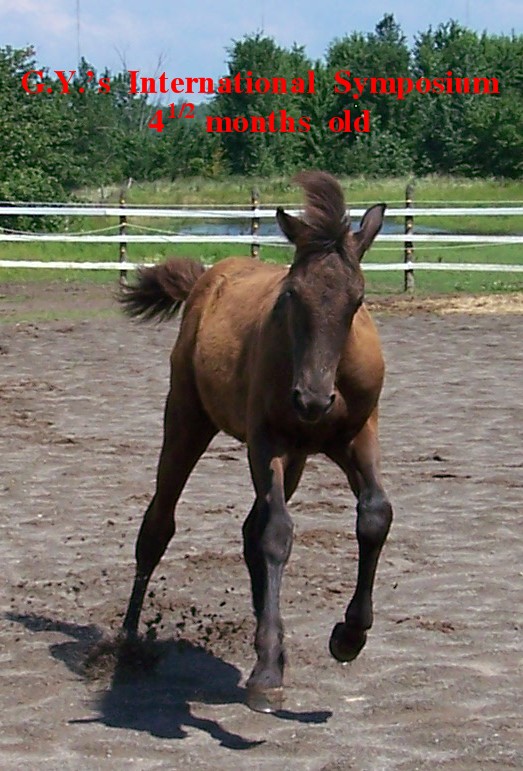 Age: 5 months
Height: 14.1 hands
Color: smoky black
Registries: FSHR - Moriesian
Sire: Matthijs RS
Dam: E.J. Platinum Gold
Price: $16,000
Presence, Size, Conformation, Athletic, Class, G.Y's International Symposium is destined for the show ring. Pictures included show Dam & Symposium at 3days old, Symposium at 4.5 months old. Serious inquiries only please. DVD available upon request.
Contact: Brian & Susan Wolfe
E-mail: susanwolfe@sympatico.ca
Location: (Ontario, Canada)
---
Classified advertising on Friesian Crazy is free for everyone selling or seeking a Friesian horse. Include photos and any information you like! So if you're interested, stop on by (click the above link) and submit your ad!

Advertise your Friesian farm or business for free with Friesian Crazy's banner exchange program. Learn more...

<!-/--div=endofcontent--/->