Training

Using techniques developed through years of study as well as a customized training program to best fit your horse, we combine the basics of good horsemanship with dressage to develop a soft, supple, balanced, happy equine.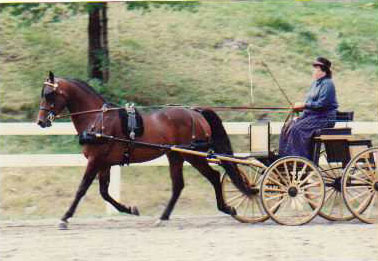 We believe training starts with developing ground manners and proceeds from there to lunging, long-lining and riding, driving or other training. We believe in "clear communication" with our horses, thereby assuring a well trained confident horse who is secure and happy in its work. Regardless of the breed or discipline, we want you to have a great experience and enjoy what you do with your horse.
We have a saying in the barn ~ "Correct is correct. It makes no difference what discipline or breed." A well balanced, polite, light, responsive horse is what we all strive for in any discipline.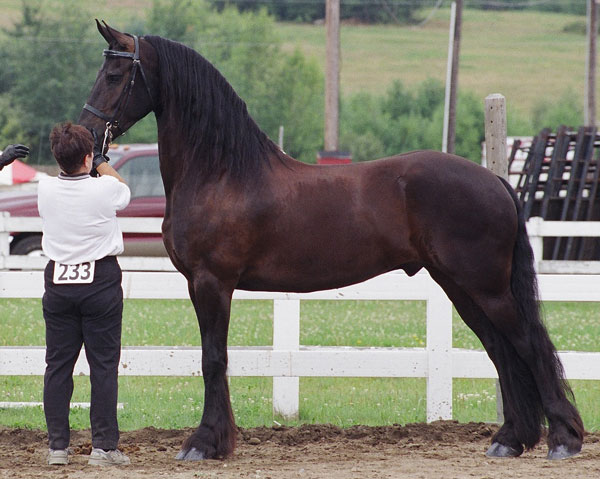 Our horses have excelled for years in everything from basic trail riding to the national levels of the show ring in riding, driving and in-hand. Our Friesians consistently place in the top of their inspections, many times bringing home the Grand Championship and Reserve within the same keur. In 2003 I trained, prepared and keured 9 horses, including the Reserve Champion colt; Champion & Reserve Champion mare out of 26 mares. All in all we had the top 6 mares out of 26. In 2005 I trained the Champion and Reserve Champion Mare. In 2008 I trained the Preliminary Crown Reserve Champion mare. From Friesians to Morgans and sport horses alike, we have prepared numerous champions for owners all over the country in a wide variety of disciplines.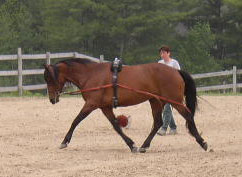 Please call for current training rates.
*All participants are required to sign a release form acknowledging Maine Law 7 MRSA Section 4101 which states that under Maine Law an equine professional has limited liability for any injury or death resulting from the inherent risks of equine activity. (Refer to Maine Law as printed.) For participants under 18 years of age, parents or guardians must sign.

<!-/--div=endofcontent--/->